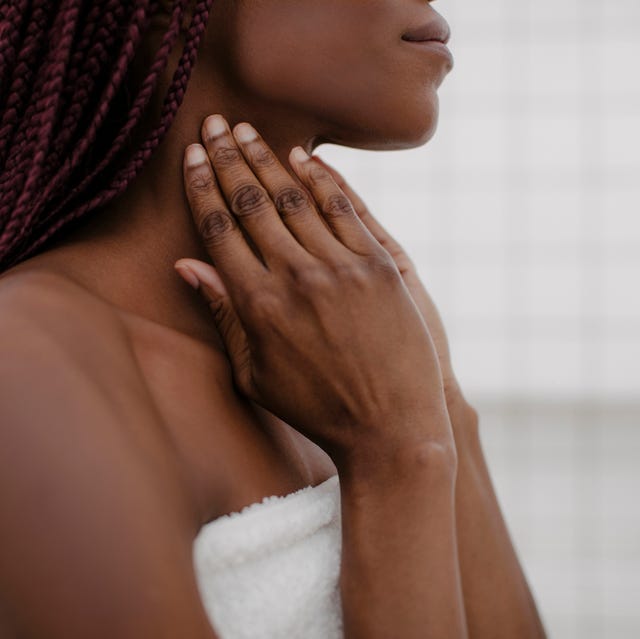 FreshSplashGetty Images
The perfect end to a long day looks a little something like this: soaking in a hot bubble bath with flower petals and bath salts, then drying yourself off and massaging all your pressure points with an aromatic body oil that will not only soothe sore muscles but leave your body glowing. An even better end to a stressful day is receiving a full-body rubdown from your SO in your humble abode that'll help boost intimacy and bring you two closer.
Oils are the best for massages because it's lightweight—so it doesn't leave a sticky, thick seal—and helps your (or your partner's) hands glide seamlessly across the body. So whether you're giving or receiving, or indulging in a personal self-care day, click through to see the best massage oils recommended by the experts who use them daily.
Advertisement – Continue Reading Below
Best for Pain Relief
Arnica Warming Relief Massage Oil
Now Foods
amazon.com
$7.53
Laura Piteo, director of massage at Oasis Day Spa, has an arsenal of oils she rotates daily. Arnica oil is a star player in the lineup for its "natural pain-relieving and anti-inflammatory benefits and great for giving your regular massage oil a therapeutic kick."
Best for Maximum Relaxation
Soothing Body Oil
Espa Skincare
espaskincare.com
$70.00
You'll find it challenging to stay awake after inhaling this blend of primary essential oils like sandalwood, frankincense, and myrrh. Fanny Duarte, lead massage therapist at SoJo Spa Club, says ESPA's Body Oil is "perfect for coaxing both mind and body into deep relaxation. The anti-inflammatory properties of all three essential oils are also the perfect boost to a relaxing massage."
Best for Moisture
Organic Jojoba Oil
Jojoba oil is used a lot in spas because it "closely resembles the natural oils in human skin," Piteo explains. "It's ideal for restoring moisture to dry skin."
Best for Calming
Ortho Ease Massage Oil
Young Living
amazon.com
$49.95
Stressed? Overworked? Give yourself a quick winter escape with oil packed with wintergreen, peppermint, juniper and marjoram. "This is a great calming massage oil that also encourages increased blood circulation," Duarte says.
Best for Sensitive Skin
Natural Grapeseed Oil
Colavita
amazon.com
$10.89
A great alternative for those who are extremely sensitive to scents and oil blends, Piteo says she reaches for grapeseed oil because it doesn't have an overbearing scent and soothes sensitive skin. 
Best for Sensitive Skin
Clear Results Oil
Biotone
amazon.com
$64.11
"Biotone Clear Results Massage Oil is best for anyone with sensitive skin, allergies, or sensitivities to smell but still feels luxurious against the skin," Duarte adds.
Best Slip
Fractionated Coconut Oil
MAJESTIC PURE
amazon.com
$14.98
We use coconut oil to cook with but it works as a great massage oil as well because it's a bit more slippery than other oils. "For deep tissue work, it's not ideal," Duarte explains. "But if you like that coconut scent, it's a readily available, all natural and hydrating product to work with."
Best for Stress Relief
Aura Cacia Relaxing Lavender Aromatherapy Body Oil – 4 oz
Aura Cacia
target.com
$8.19
The intoxicating smell smell of lavender draws you in at first, and then you slip into a deep sleep. That's because lavender is a healing essential oil, Duarte says. "I love giving relaxing massages and lavender is perfect for promoting relaxation and stress relief along with combating inflammation."
Advertisement – Continue Reading Below