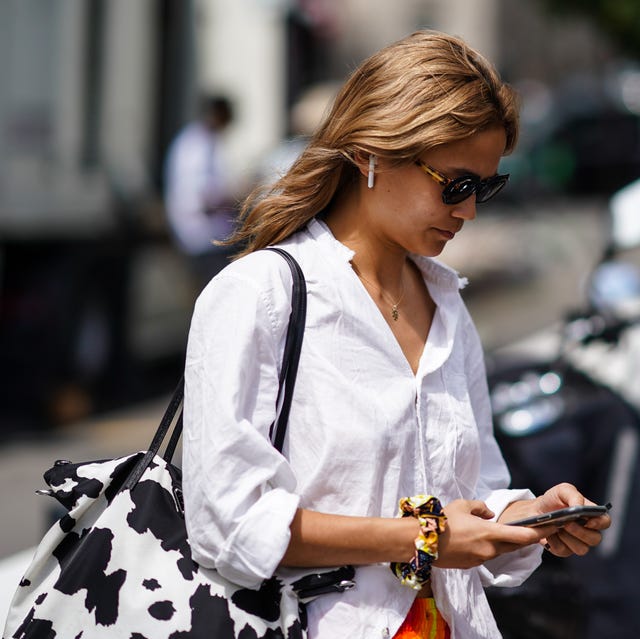 Edward BerthelotGetty Images
One of the best shopping days of the year is upon us: Amazon Prime Day. Yes, the most wonderful time of year is practically here, where you can get all your favorites from viral TikTok finds to must-have beauty products at unbelievable prices. While the two-day online festivities don't kick off until June 21 (mark your calendars!), some sales have already started. One of those being on Apple and all their high-tech products. Call it fate or a sign from the retail gods, but all I know is that deals this good will not be around for forever (or Prime Day in this case.)
Right now, some of the most enticing of these discounts include around 20 percent off the beloved AirPods and AirPods Pro, as well as discounts on Apple Watches, iPads, Macbooks, and a range of other Apple accessories you love and adore. To help you wade through the depths of the online retailer, I pulled together my favorite deals from the sale so you can get started on your Prime Day shopping early. Whether you need new headphones for the gym or a new desktop for your WFH space, an incredible deal on your next favorite Apple product is just a scroll away.
---
Advertisement – Continue Reading Below
1
Apple AirPods Pro
Apple
amazon.com
$249.00 $197.00 (21% off)
In 2019, Apple revamped its AirPods and introduced these earbuds with a bunch of new features, including noise cancellation technology, a 24-hour battery life, and made them totally waterproof. 
2
2020 Apple iPad Pro
Apple
amazon.com
$949.00 $879.00 (7% off)
It's got all the gimmicks you love that come with your laptop, but none of the bulkiness or heaviness to haul it around. With 10-hours of battery life, you'll be unstoppable with this device. 
3
Apple AirPods Max
Apple
amazon.com
$549.00 $499.00 (9% off)
FYI: This is the lowest price I've seen on the AirPods Max headphones since their launch in December last year. Get ready to get in on all the noise-canceling goodness these have to offer. 
4
2020 Apple iMac with Retina 4K Display
$1,299.00 $999.99 (23% off)
If you like to have a bigger screen to help you get all your work done or want to revamp your WFH set up (same) for under $1,000, this iMac is a steal. 
5
Powerbeats Pro Wireless Earbuds
Beats
amazon.com
$199.95  $169.95 (15% off)
Equipped with the Apple H1 Headphone Chip and Class 1 Bluetooth, these earbuds set up faster and have a more stable wireless connection to devices than its competitors.
6
2020 Apple MacBook Air with Apple M1 Chip
Apple
amazon.com
$999.00 $949.00 (5% off)
Retire your collegiate laptop and upgrade to this beauty. The battery life is next-level amazing, the Retina display with True Tone makes everything look better, and the Touch ID login feature is a game-changer.
7
Apple EarPods with Lightning Connector
Apple
amazon.com
$23.00 $17.10 (26% off)
If you're not a fan of wireless listening experience, these earphones have the traditional cord design you love with the listening quality Apple is known for. 
8
Apple Magic Keyboard with Numeric Keypad
Apple
amazon.com
$129.00 $117.60 (9% off)
Something about the click-clack of a wireless keyboard soothes me, especially one that can go for about a month or more between charges. 
9
Apple Watch Series 6
Apple
amazon.com
$399.00 $319.99 (20% off)
The latest Apple watch means serious business. This model can keep track of your blood oxygen levels, record all your workouts with the utmost accuracy, has a dazzling retina display, and can fire off text messages with just a quick tap or two. 
10
Apple AirPods with Wireless Charging Case
Apple
amazon.com
$199.00 $149.99 (25% off)
Ah, the OG Airpods. Answer calls, listen to your favorite tunes, and do it all without the hassle of dealing with those pesky cords. 
11
2020 Apple iPad
Apple
amazon.com
$329.00 $299.00 (9% off)
Take your iPad experience a little further, and be sure to snag the Apple Pencil, which is a great tool for writing, drawing, and all kinds of fun stuff. 
12
Apple Watch Series 3
Apple
amazon.com
$229.00 $199.00 (13% off)
This model packs all of the essential Apple Watch features without breaking the bank: like tracking your workouts while also serving as a wing woman to your iPhone. 
This content is created and maintained by a third party, and imported onto this page to help users provide their email addresses. You may be able to find more information about this and similar content at piano.io
Advertisement – Continue Reading Below