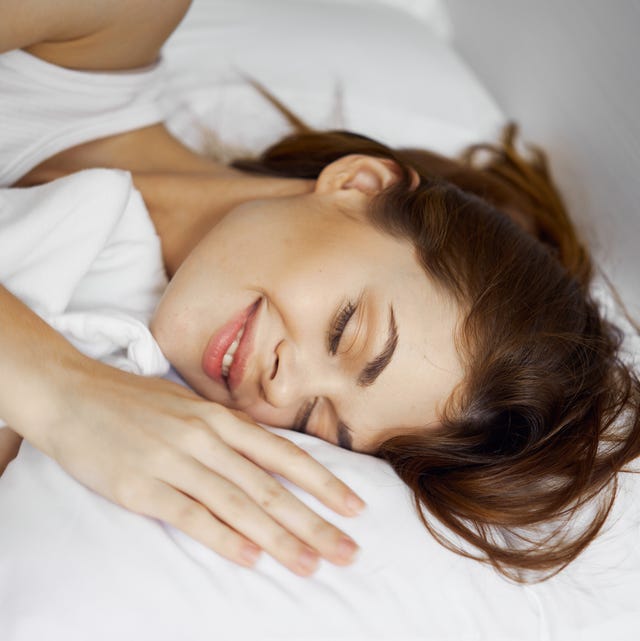 ShotPrimeGetty Images
So many solutions to skin and hair woes are not easy to implement. I will never drink liters of water a day, good luck getting me to put down my hot tools, and the chances of me washing my towels every three days is pretty much nonexistent. However, the simple act of swapping out my standard cotton pillowcase for a silk version is easy and yields almost immediate results. If it sounds too good to be true, it isn't. Just like curly girls have known for ages that a standard towel causes frizz while a T-shirt is our savior, silk has many benefits that you'll notice right away. Not only does it cause less friction, which means less breakage and frizz for our hair, but they're also anti-bacterial, which means fewer breakouts. Add in the fact that they feel super luxurious, there are affordable options, and they actually help prevent wrinkles. You'll be wondering why you didn't make the switch sooner. Here, find 18 silk pillowcases for every budget, hair concern, and skincare woe.
Advertisement – Continue Reading Below
1
Best For Hot Sleepers
Mulberry Silk Pillowcase
This 100% silk pillowcase comes in 14 different colors to suit every bedroom aesthetic. Both sides of this pillowcase are silk, and it doesn't retain much heat, which makes it an excellent choice for sweaty sleepers.
2
Best Hidden Zipper
Silk Pillowcase
This silk pillowcase is 22 momme—which is the silk version of thread count—which makes it a little heavier and more durable than standard silk pillowcases. It has a hidden zipper, which means nothing will snag your hair when you sleep.
3
Best For Beginners
100% Mulberry Silk Pillowcases
This product is created using mulberry silk and comes in a pack of two. It's incredibly soft and lightweight, making it ideal for newbies to the silk pillowcase world.
4
Best For No Frizz
Silk Pillowcase
If you've been influenced by the subway ads, you'll know how popular Casper is. This silk pillowcase is great at preventing frizz because the material helps reduce friction while you sleep.
5
Best For Acne-Prone Skin
Silk Queen Pillowcase
One of the most popular silk brands, slip, paved the way for mainstream silk pillowcases. This product is incredibly soft with a beautiful sheen and great at preventing the bacteria that cause acne.
6
Best For Curly Hair
Silk Pillowcase
This pillowcase has a nice density of 19 momme. It comes in a slew of colors and designs, with enough options to suit your taste and decor. The softness of the silk is great at preventing breakage and frizz in curly hair.
7
Best Satin Pillowcase
Satin Pillowcase
While silk is a natural fiber, satin is a close–and often more affordable–alternative. This pillowcase comes in beautiful designs and provides some of the same anti-frizz properties that silk has, minus the cost.
8
Best For Oily Skin
Silk Plus Pillowcase
While silk is excellent for acne because it's an anti-bacterial, it's not a very absorbent fabric, which may aggravate people with oily skin. This pillowcase solves that problem by creating a pillowcase that has silk on one side, and moisture-wicking rayon on the other.
9
Best For A Bundle
Silk Pillowcase & Eye Mask Beauty Bundle
For a blissful experience, this silk bundle comes with one 22-momme pillowcase and a matching silk eye mask. It's great for a relaxing weekend away, or for creating a spa experience in your home.
10
Best For Allergies
22-Momme Silk Pillowcase
This luxurious silk pillowcase is made of mulberry silk. It's incredibly soft, anti-frizz, and anti-bacterial. It's also great for anyone who suffers from dust-induced allergies.
11
Best For Wrinkles
Mulberry Silk Pillowcase
This silk pillowcase is incredibly soft and great for anyone trying to avoid premature aging. Because the fabric is so soft, it prevents wrinkles caused by the friction of your face on the pillow while you sleep.
12
Best For Dry Skin
100% Mulberry Silk Pillowcase
After layering on all your skincare products, the last thing you want is for your pillow to suck in all your pricey serums. This silk pillowcase won't absorb your skincare, which means you'll see the true effects of your moisturizer in the morning, making it great for people with dry skin.
13
Best For Hair Loss
Silk Pillowcase
If your hair looks thinner or is breaking, switching to a silk pillowcase might make all the difference. Because of the reduced friction between your hair and your pillow, hair is less likely to snag and break.
14
Best On A Budget
Satin Pillowcase
If you want the benefits of silk on a budget, this satin pillowcase is a great way to enter the game without spending all your money. With a slew of colors to choose from, you can enjoy less frizz while you sleep without breaking the bank.
15
Best Eco-Friendly Options
Silk Pillowcase
This 100% mulberry silk pillowcase has your skin, hair, and the planet in mind. The pillowcase is free of any toxins or heavy metals, and you can even pair this purchase with some silk scrunchies or an eye mask.
16
Best For No Creases
Natural Silk Pillowcase
Waking up with creases all over your face in the morning is never fun. This silk pillowcase is so soft, you can say goodbye to stressing out in the morning about all the lines that have appeared overnight.
17
Best Pattern Range
Silk Pillowcase
If classic shades aren't your thing, all your patterns are covered with this line of pure silk pillowcases. Depending on your mood, you can choose between floral designs to geometric patterns.
18
Best For A Gift
Mulberry Silk Collection White Silk Pillowcases
If you want to give a thoughtful present without causing your wallet too much damage, this line of silk pillowcases makes it easy. Not only do they have a range of colors, but their packaging is so cute–and easy to gift wrap.
Why are silk pillowcases good to use?
"Silk pillowcases fight frizz and help you retain moisture, especially on naturally curly hair. It's less snagging and pulling on your hair at night," says Sturdivant-Drew. "As a bonus, silk pillowcases are fantastic for your skin because they are much softer, so less face wrinkles and less irritation," says Lopez.
Who should be using silk pillowcases?
If you have damaged hair or trouble skin, silk pillowcases may make a difference. Sturdivant-Drew recommends silk pillowcases for: "People who have dry, brittle hair and also frizzy hair. Natural hair people in general if you have that problem. Also chemically lightened hair." Silk is excellent for anyone experiencing hair loss or breakage. "Cotton absorbs any natural moisture or any natural oils that are in your hair. People tend to see a lot of breakage along the crown of the hair, on the sides of their hair where they press their head because their hair is rubbing up against the cotton for hours," says Lopez. "A silk pillowcase has a lot less friction and also does not absorb those natural oils and moisture from the hair. The silk gives a little extra layer to your hair to prevent breakage, dryness, brittleness, and splitting."
This content is created and maintained by a third party, and imported onto this page to help users provide their email addresses. You may be able to find more information about this and similar content at piano.io
Advertisement – Continue Reading Below